Equipment to Climb Mount Aconcagua
High-quality and proper equipment to climb Aconcagua is essential to increase the chances of a successful expedition. Please check our recommended Aconcagua gear list.
Aconcagua Expedition Gear List
Have proper equipment is essential to increase the chances of a successful climb. Find detailed info at www.acomara.com.
Feet
For high altitude camps, choose one of the following:
All-in-one | Best choice, great comfort
Double heigh boots | Most commonly used
Double plastic boots | Low-cost, heavier and rigid
All-in-one or triple boots
We recommend the following triple boots:
Scarpa Phantom 8000
La Sportiva Olympus Mons Evo
The North Face Verto S8K
They are the warmest types available. They have insulated and integrated gaiters and offer more warmth and waterproofness than high altitude double boots.
Double height boots
We recommend the following double-height boots:
La Sportiva Spantik
La Sportiva G2
La Sportiva Baruntse 20 GTX
Asolo Manaslu GV
They can be worn with a soft synthetic or hard plastic exterior designed for use with a height-designed liner. These boots are warmer than single mountaineering boots.
They are manufactured with a removable insulating lining in a durable and waterproof outer boot. They are made with fully rigid soles to climb flat to vertical terrain with or without crampons.
It is recommended not to walk with the double boot's interior since this provides shelter, and the rocky terrain of Aconcagua it usually breaks.
Estimated rental price: USD 200
Double plastic boots
Low-cost option, low-performance, the most frequently used are:
Asolo AFS 8000
Scarpa Omega
Scarpa Vega
Koflach Artic
This plastic double boot option has a flexible plastic upper and a soft, flexible inner boot designed to fit inside the plastic shell.
They are heavier and colder than the previous ones; however, they are good enough for Aconcagua. If you opt for these boots, it is recommended to bring foot warmers or combine them with gaiters
Estimated rental price USD 125
Boots not suitable
Simple boots are not suitable to climb Aconcagua, some of them are:
La Sportiva G5
La Sportiva Batura
La Sportiva Nepal Extreme
La Sportiva Nepal Cube
La Sportiva Trango Ice
Scarpa Phantom Guide
Scarpa Phantom 6000
Scarpa Grand Dru
Scarpa GTX
Boreal G1 Lite
Boreal Stetind
Mammut Eiger Extreme
TNF Verto S6K
Simple boots are rigid and haven't a removable sock. Climbers cannot use them in Aconcagua because they don't provide adequate protection against low temperatures.
They are designed for mountaineering or climbing below Aconcagua, generally ideal for use with crampons.
The use of these boots in Aconcagua implies the risk of frostbite.
Are recommend shoes with a lot of space in the toe area and good support when approaching the base camp. Are ideal as it is a dry trail with a lot of sand and dirt.
Trekking shoes or boots must offer excellent traction with a flexible sole that provides comfort and cushioned support underfoot. They are used to approach the mountain and to take shorter walks at low altitudes. Breathable and waterproof models are preferred.
Estimated rental price: USD 60
Other footwear that can be worn as a complement, although they do not replace light trekking boots, and is useful to wear when there is a lot of snow at base camp. We suggest wearing only one of these optional shoes to avoid weight.
Warm and waterproof boots
These boots must be very comfortable and need not be technical; you will not walk or climb with these boots.
Weight and volume are not a concern for this type of shoe; the important thing is warmth and comfort.
Booties
It is recommended to be used for greater comfort around the base camp, in the high camps, and inside the tent.
Synthetic models stay warm even when wet but are heavier and less compact than down boots.
Trekking shoes (optional)
Can wear sneakers or tennis shoes to walk comfortably during the rest days at base camp.
They are also useful as a spare if your Trekking boots are wet and need drying.
Sandals (optional)
They can be water shoes, crocs, or similar footwear that fit the heel to cross rivers. Not flip-flops.
Not usually used by Normal Route (depending on the level of the rivers). The Polish Route requires them.
Crampons attach to boots for traction on slippery surfaces of snow, ice, and stones. Semi-automatic is preferably used, but it can also be automatic or tape.
We recommend 12-point steel crampons with anti-balling plates over 10-point aluminum or rigid crampons because the traction offered is superior. They stand up to the potential time spent walking on rocks, and they fit modern boots well. We recommend trying your crampons on your boot model since some boot sizes require a more extended spreader bar.
Estimated rental price: USD 54
Recommended
Black Diamond
Petzl
Grivel G14
Not Recommended
Foot Fangs
Simond Scorpions
Grivel model Rambo
Most double boots require the use of gaiters. Gaiters are a fabric tube that you wrap over boots and are used to prevent snow and other debris from entering your footwear, and allow to preserve the temperature in calves and ankles.
They should be tall, durable, waterproof, and fit snugly to eliminate gaps between the gaiter and the boot without squeezing the ankle and calf.
Estimated rental price: USD 26
We recommend 6-8 pairs of socks. The more you have, the more comfortable you will have in clean, dry clothing, but this will also add more weight to your personal gear.
Midweight socks
Midweight socks are designed to offer comfort and warmth at moderate altitudes in moderate to cold weather
They should fit over liner socks without constricting blood flow and be constructed of merino wool or synthetic fiber (2 pairs).
Thick warm socks
Thick warm socks (Polar Tec) made of synthetic material. 2 pairs recommended for use on cold days + 1 pair for the summit day.
Liner socks
Very lightweight synthetic socks are designed to quickly move moisture away from your skin, reduce blisters' appearance by absorbing friction, and keeping your feet dry.
Liner socks are typically constructed from synthetic materials, nylon or polypropylene, for first skin. 3 pairs + 1 pair is recommended to wear on Summit Day.
Foot warmers (optional)
Foot warmers may be worn to provide greater comfort. 6 pairs are recommended.
Legs
Trekking and mountaineering pants for diverse climates. Wind resistance.
Light and breathable coat. For use on treks to base camp.
Base pants, also called leggings, are worn against the skin, are snug and comfortable.
They are made of wool or synthetic materials and designed to fit the comfort of other layers. They should not be cotton.
These pants must be weather resistant, air permeable, elastic, and durable. Combined with a base layer to increase the heat or a hard layer when it rains, it is perfect for mountaineering.
A good option is the Soft-Shell Wind stopper pants, highly versatile due to their fabric's elasticity or the polar type. Reinforced in areas prone to wear. Prima Lof pants are also an option for Aconcagua.
3rd layer | Rainproof pants
They are Gore-tex pants that are designed to protect from rain, snow, and wind. They are used as the outer Layer.
They must offer full-length or side zippers in changing conditions without removing any footwear. Regardless of intended use, stiff pants should not be insulated to allow for a modular layer.
Estimated rental price: USD 60
Extra layer (optional) | Prima loft
Waterproof, lightweight, and windproof pants make them an excellent option if you want to reinforce the third layer optionally.
Extra layer (optional) | Prima loft
Body
Light and breathable t-shirt for warm conditions made of merino-light wool (more durable) or synthetic fabric. White or lighter models are preferred to absorb less sunlight. Cotton is not recommended because it costs a lot to dry when wet.
Two long-sleeve shirts and two short sleeve shirts are recommended for replacement.
Short or long sleeved cotton shirt, for resting days only, not suitable on activity days. It provides greater comfort and well-being to the skin in permanent contact with synthetic clothing.
We recommend bringing 2 of the following jackets to be prepared for all weather conditions.
Polar jacket or similar
Diver or synthetic shirt
Soft-shell jacket
Wind shell
Polar jacket or similar
Hooded topcoat (optional but recommended) that adapts to your shape so you can use the rest of the base layers. Hoods are optional but recommended.
The breathable mid-layer upper, made of a lightweight, breathable fleece-like fabric, is used to keep warm in cold conditions or over the lightweight base jersey in icy conditions. Polar Tec Power Stretch, Polar Tec PowerGrid, or Patagonia's R1 can work very well. A snug contoured fit is always recommended.
Diver or synthetic shirt
A diver in fleece or thick synthetic shirt is not necessary if you have a fleece jacket, but you can bring it, so you don't always wear the same jacket.
Soft-shell jacket
A soft-shell breathable jacket that is wind-and-weather resistant is a key to the mountaineering layering system. We recommend a hooded model. It should fit well over your mid-layer top and base layer tops. A breathable soft-shell jacket that is wind-resistant and constructed of woven or knit polyester & nylon.
Softshell allows you to avoid donning a hard-shell waterproof jacket until necessary- ensuring greater freedom of movement and keeping your body drier and more comfortable than inside a moisture-trapping hard shell. Softshell is preferred over fleece since they are less bulky, shed moisture and repel snow better, and have a more dynamic temperature comfort range.
Wind shell
A wind shell without insulation adds extra protection and weighs less than 8oz/230g. It is also useful as a 3rd layer use on approaches.
On the summit day or cold days, it may not be enough as a 3rd layer. Optional.
The Parka is the most important garment of the third layer, it can be combined with any of the other two options, and must fulfill the 3 functions:
Coat (feather)
Waterproof
Windbreaker (Gore-tex)
Coat (Feather Jacket)
A lightweight insulated jacket filled with down or synthetic insulation. An insulated down or synthetic jacket. A synthetic model mimics down's insulative, air-trapping properties but is not susceptible to losing loft in damp conditions like goose down. Insulated synthetic jackets are crucial for summer mountaineering- especially in wet locations, as the synthetic insulation handles body moisture without any problem and dries quickly. Synthetic insulations are usually measured in grams of weight per square meter- this number helps indicate how warm a jacket will be.
For example, a 180g insulated synthetic jacket would be warm enough for climbing as high as 5000m/16405feet. Down jackets are lighter than expedition parkas but still offer significant insulation for cold conditions or moderate altitudes. They are usually worn during breaks, around camp, and when climbing in cold conditions. Knowing exactly how warm a down jacket can be challenging since factors like down quality, construction method, and fabric choices significantly impact a jacket's warmth. We recommend contacting an expert resource when choosing a down jacket.
Estimated rental price: USD 105
Waterproof Jacket
A non-insulated, waterproof hard-shell jacket with a helmet-compatible hood. We recommend Gore-Tex Pro Shell or a similar eVent fabric since they offer more durability and weather protection. It must fit comfortably over your base layer, mid-layer, soft-shell, and lightweight insulated Layer. A hard-shell jacket made of Gore-Tex or similar material protects against rain, snow, and wind.
The hard-shell fabric must also be helmet-compatible, waterproof, and breathable. 3-layer jackets tend to be more waterproof in extended use in wetter or more adverse conditions. For mountain travel, hard-shell jackets must have a hood and be uninsulated because dual-purpose, insulated hard-shell jackets do not allow for modular layering. A hard-shell jacket should never be worn unless extreme wind or precipitation requires it- it is better to use more breathable layers (like a mid-layer or soft-shell jacket) when possible to avoid trapping sweat.
Estimated rental price: USD 74
Parka
An 8000m expedition parka is the warmest insulated jacket available, and it is suitable for use anywhere in icy conditions. Expedition parkas are down insulated since synthetic insulation would be too heavy and too bulky.
A more extended cut, an insulated hood, baffle box construction, and 800+ fill-power down are characteristics of the expedition-worthy parka. A down parka should fit over a shell or soft-shell jacket.
Head
SunGlasses
Category 3 or 4 glasses with side protection are critical elements of security for your expedition to Aconcagua. These protect the eyes from highly bright and harmful ultraviolet rays amplified by snow reflection, making them essential for your expedition.
They should wrap around your face and provide 100% coverage from above, below, and on each side of the lenses.
It is recommended to bring 2 pairs of glasses for any break.
Estimated rental price: USD 33
Goggles
High-quality goggles for sun and wind protection at altitude. The lens should offer a 30% or less visible light transmission. Photochromic models are ideal. The goggles should fit snugly around your face and fit comfortably with your helmet. There are prescription goggles and models with enough room for using eyeglasses. Googles are useful when glacier glasses cannot block wind or snow.
It would help if you chose an acknowledged brand to ensure adequate protection and a longer lifespan. Visible Light Transmission (VLT) googles of approximately 8-35% are preferred because they adjust automatically to the changing conditions. Still, you can opt for a model that allows interchangeable lenses for covering the same range of VLT for a reduced cost.
Estimated rental price: USD 33
We recommend bringing the following:
Cap
Warm Hat
Balaclava
2 Buffs
Cap
Any cap will protect your head, face, and neck from UV radiation on sunny days.
You can choose a model without neck protection, use a sombrero, or any other type of hat for the same purposes, but a model with neck protection is preferred.
Warm Hat
Non-cotton wool or synthetic hat that covers the head and ears comfortably.
The non-cotton wool or synthetic hat should cover your ears, feel comfortable using it for several hours with or without a helmet and allow moisture to evaporate.
Balaclava
One heavyweight and one lightweight balaclava that fit comfortably together. A heavy balaclava made of thick synthetic or fleece fabric covering the entire head and mouth is necessary to block the wind, provide full-face coverage without obstructing vision, and avoid frostbite to your face.
The mouth area should be able to vent moisture through but still offer warmth; if the area does not have perforations, you can puncture or cut it. A heavyweight balaclava is critical for avoiding frostbite to your face at high altitudes or in polar regions. It should fit over a lightweight balaclava. A light balaclava is also necessary for the same purposes at a lower height, and it should be breathable and constructed with stretchy material. 2 buffs can replace it.
Buffs
Two buffs with UV protection. A stretchy tubular piece of UV-resistant fabric, offers protection from sun, light wind, dust, and cold temperatures for your neck and mouth.
Is a must-have for all outdoor multi-day activities. A bandana or a balaclava cannot replace it.
Helmet
A lightweight climbing helmet that fits comfortably over your bare head, hat, balaclava and that can strap your headlamp. The helmet should be designed to protect and keep you warm in changing weather, and it should be comfortable for use in multi-days outdoor activities
Remember that while the entire layering system is essential, headwear is also a key that may make you succeed or stop your expedition.
Estimated rental price: USD 43
Head Lamp
Weather-resistant LED headlamp with freshly installed batteries plus spare batteries. A LED headlamp should have 100-250 lumens of output to see at night in your tent, and for a pre-sunrise start.
It should be weather-resistant, fit comfortably on your helmet and head, and have replaceable batteries.
Hands
The synthetic fine gloves offer a comfortable fit. Lighter colors are preferred since they absorb less sunlight and still provide UV protection.
Two pairs are recommended.
Gel hand warmers (optional)
6-8 gel hand warmers are recommended to keep the fingers warm if extra heat is needed.
Not only for comfort but also in case of any frozen issue.
A pair of polar type or similar warm gloves. The cold in the hands is vital to consider; they must be protected with the highest possible quality.
The cold in the hands is vital to consider; they must be protected with the highest possible quality.
Estimated rental price: USD 16
Two pairs of gloves are required as a 3rd layer.
Waterproof thermal gloves
One pair of insulated warm shell gloves with removable liners. Expedition gloves are extra-warm gloves that allow dexterity in icy conditions and higher altitudes. They should have an insulated, waterproof, and breathable shell and have insulated removable liners.
You should look for gloves with a cinch strap at the wrist, a cinch cord at the gauntlet and wrist keeper leashes to prevent dropping gloves in windy conditions, and curved fingers. They allow maneuverability in the camps, although they are not as warm as mittens.
Estimated rental price: USD 46
Mittens
For the summit day, expedition mitts with an isolated removable lining are required for maximum protection against low temperatures. We recommend buying the warmest model available. Expedition mittens are used to keep hands warm in the most extreme conditions.
They must be made for use on 8000 m peaks. Here the 3 layers of gloves will be worn without restricting the blood flow to the fingers. Models with synthetic or down insulation work well.
Mitt cover: in old models of mittens used to waterproof the gloves. In Gore-Tex models, the mitt cover is unnecessary because they are already waterproof.
Estimated rental price: USD 33
Gel hand warmers (optional)
Others
Our expeditions include meals and snacks. However, the climbers may bring the following items of their favorite flavors:
Servings electrolyte replacement mix (Nuun, Skratch Labs)
Servings instant coffee (if desired a particular coffee)
Energy gels (Gu, Clif Shot Bloks)
Energy bars (Clif Bar, Luna Bar)
Candy bars (Snickers, Twix)
Servings snack crackers (Austin Sandwich Crackers)
A box of other crackers (Wheat Thins, Cheez-Its)
A small assortment of hard candy, cough drops, etc.
Special snacks in case of any food restriction
Etc.
Telescopic poles
We recommend using three-section collapsible trekking poles.
Lighter-weight carbon poles offer a significant weight advantage, but many trail poles can work well. Snow baskets are not necessary.
Estimated rental price: USD 33
Ice axe (optional)
Its use in Aconcagua is not frequent. However, some mountaineers usually use them when they go through the 360 Polish Glacier Traverse Route. It is not commonly used on the Normal Route.
We recommend its use only to climb the glacier through the Polish Glacier Direct Route.
In the case of mountaineers who have no experience in its use, it can pose a danger, so a good pair of boots with suitable crampons and poles are usually preferred for correct fixation.
Estimated rental price: USD 54
Insulating | Mattress
A foam insulated pad of 3/4 or full body length.
It can also be used beneath an inflatable sleeping pad to provide extra insulation when sleeping on snow, glaciers, or frozen ground. It should be a light piece of closed-cell foam.
Inflatable sleeping pad (optional)
A full-body-length inflatable sleeping pad is an optional item to provide extra comfort. It doesn't replace the insulating (mattress). The inflatable sleeping pad provides cushioning and insulation when sleeping on the ground.
We recommend bringing a repair kit in case of a leak.
The Therm-a-Rest Pro Plus is the best choice for Aconcagua.
Estimated rental price: USD 26
We recommend a sleeping bag with a comfort temperature of -20°F/-30°C with a compression bag. Must have down insulation (synthetic material is too bulky and heavy), full side zipper, hood, pull collar, zipper pull tube, and head lanyard.
Some brands have 3 temperature levels. This is an example of not suitable sleeping bag for Aconcagua:
- Comfort temperature: -13°C
- Limit temperature: -22°C
- Extreme temperature: -48°C
Although some Aconcagua rentals and climbers take the limited or extreme temperature range as valid, we advise always consider a minimum of -20°F/-30°C comfort temperature to be prepared for different weather conditions. Although this is suitable for Aconcagua, if you are sensitive to the cold, a -40°F/-40°C bag will be better.
Estimated rental price: USD 180
75-100 liters expedition backpack
Many backpacks are suitable, depending on the personal gear of each climber. Black Diamond Mission 75 is a good choice. Estimated rental price: USD 60
35-liter daypack
It is not mandatory but highly recommended. For approaches to base camp while the mules carry the personal gear, also for daytime walks.
A 150-liter waterproof duffel bag with backpack straps and a roll-top closure for easy portability in any environment, with a security padlock.
It is optional but strongly recommended to keep the backpack and boots safe, avoiding damages and loss when transported by the mules, crossing rivers, etc. Also, to leave part of the gear in the base camp when going to the summit.
Estimated rental price: USD 40
Bottle / Thermos
1-liter BPA-free bottles with a wide mouth. Nalgene 1-liter Wide Mouth Bottles are durable and healthy. Narrow mouth bottles are not recommended because they are difficult to fill and are more likely to freeze cold. We advise including a slice of a citric inside to have better flavor and drink 5-6 liters of water per day if necessary.
Thoroughly vacuum insulated thermos with a wide mouth and a capacity of 1 liter or 1.5 liters, stainless steel with a large, leak-proof mouth cap is the key to critical heat and hydration at higher altitudes in colder conditions.
Estimated rental price: USD 20
A camelbak is not usually used in high altitude camps because the water in the hose freezes when low temperatures.
Personal Crockery
Long handle, hard plastic scoop for comfortable glove grip, and easy access to deep bowls while wearing gloves. Plastic models are preferable as titanium or other metal models become cold.
Plastic knife and fork.
Plate with capacity for 2 cups with lid. There are a variety of styles ranging from fully rigid to folding plates. It would help if you chose a lightweight plastic container with a lid to eat comfortably, and that is firm enough to use with gloves.
Insulating cup with a removable lid. It must retain heat well and be spill-resistant as it allows safe consumption of hot drinks or small portions of soup. There are lightweight, double-walled cups with ergonomic shapes and textured grips that take up almost no space and keep liquids warm for long.
Estimated rental price: USD 26
Sunblock sun protection factor SPF 50+. Sun protector lips.
Hygiene kit
Wet wipes
Towel and shampoo for showers
Plastic bottle with a wide mouth for use in altitude camps
Funnel for women to use in altitude camps
First aid kit
Climbers should bring a small waterproof first-aid kit, including common drugs they usually take for a headache or stomach upset, and their prescription medications, besides band-aids to treat small scratches, cuts, or blisters, disinfectant and triple antibiotic cream.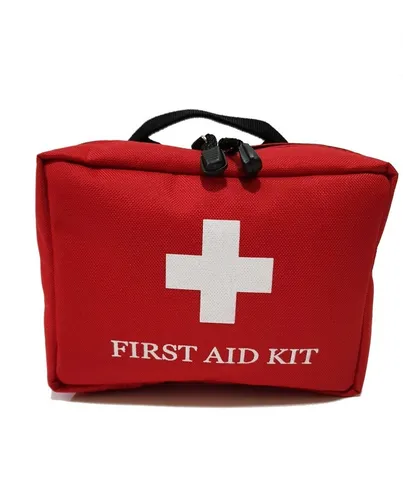 The guides' first aid kits include oxygen, oximeter, band-aids and gauze, disinfectant for wounds, and basic medicines for altitude sickness (for legal reasons, they can be used under doctor's approval only). Aconcagua has an authorized rescue patrol with doctors that take control if any medical situation occurs.
Electricity power
We recommend bringing 110V to 220V power adapters, plugs, transformers and chargers if you want to recharge your batteries (electricity available only at base camp 220V). Click here for world plugs info.
Solar panels can also charge the batteries even in high altitude camps when good weather conditions, where there is no electricity supply (they can be requested in advance before starting the expedition as an optional service with extra charge, subject to availability).
Climb solo
Only for climbers who will climb solo. Climbers who hire an expedition don't have to bring any of the following:
Kitchen elements
Fuel (gas, benzine, etc.)
Heaters
VHF Radio
High mountain tents
Waste handling elements
Drawers & duffels to carry the loads (3 per mule)
Oxygen tube (accessories, oximeter, etc.)
Ropes, shovels, etc.
Padlock bags
Others
When climbing solo by hiring logistic services instead of an expedition, these items are not included. We advise having the best quality equipment to have a successful Aconcagua expedition. We recommend Tents The North Face VE-25 or Mountain Hardware Trango 3 only.
Ice climbing
For climbers who will climb through the Polish Glacier Direct Route only (ice climbing)
Ice Axe – 50 to 65cm long. For example, Black Diamond's Raven.
Climbing Harness Alpine-style, for example, the Black Diamond Couloir
Carabiners –1 non-locking, 2 locking
Climbing Pack –20-30 liters
Belay Device – Plate-style device
Rappel Extension– 48" sewn sling.
Technical Ice Tools – Two curved ice-climbing tools like the Black Diamond Cobra's are great for alpine ice.
Spinner leashes – To minimize the consequences of accidentally dropping a tool
Complete your personal item list for the trip
NOTE: Acomara does not rent, or sell personal gear. Not take responsibility, climbers take complete responsibility for their equipment, it varies depending on personal preferences.
Watch our equipment guide to climb Aconcagua
Mountaineering is a very equipment-dependent activity. We depend on our equipment for comfort, performance, and survival since it happens in extreme environments.
Over 25+ years and 1000+ successful expeditions with thousands of climbers without any serious incident, we have found that thanks to our groups' equipment requirements, our expeditions have been able to succeed where other teams have had to turn back.
Aconcagua is a mountain with low technical difficulty; its difficulty lies in the high altitude, the wind, low temperatures, thermal amplitude, the dry environment, and climatic conditions.
Clothing is a dynamic system that changes depending on each day's conditions, each camp, and the weather conditions of the moment that are impossible to know in advance.
Please, note that you may find specific brands to represent an item. Acomara | Aconcagua Expeditions does not intend to promote any brand and acknowledges many excellent equipment brands.
NOTE: Characteristics of each equipment may vary depending on personal preferences. The images may not reflect the model available to rent. Acomara | Aconcagua Expeditions does not rent, or sell personal gear. Not take responsibility for suggested gear. By booking one of our expeditions, our guides will help you check all your equipment and go with you to buy or rent if necessary. The estimated rental price is only a reference; availability and models' are not guaranteed.